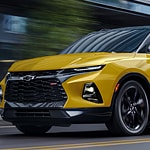 The Chevrolet Blazer has long been a reliable SUV for drivers in all conditions. The 2023 Blazer includes new safety features to keep you and yours even more secure on the road.
Driver Assist Features
Once you're behind the wheel of your 2023 Chevrolet Blazer, you will have a great deal of technology on your side. Tools such as forward-collision warning with automatic braking, lane assist warnings, automated emergency braking and automatic high beam adjustment will make it easier to see, be seen, and react effectively. Adaptive Cruise Control and Blind-Spot Monitoring will allow you to be more aware of the actions of other drivers as you travel.
The 2023 Chevy Blazer is extremely responsive, offering a rapid stop from highway speeds and nimble steering to protect you and yours from risk.
Our Chevrolet team at CHEVROLET OF WALLA WALLA is raring to show off the many safety features of the 2023 Chevrolet Blazer. Contact us in Walla Walla for a review of these features and a test drive.